May 02, 2010
Following Those Dreams!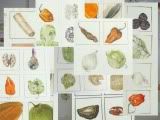 Still busy away from the blogosphere working on my botanical illustration. If you look closely, you can see the work I did recently in my colored pencil I class. My piece is the one with the four objects "pointing" at each other: the brown seed pod, the orange pepper, the onion and the tamatillo.
This was featured on the April 27th post at the botanical illustration program's blog:
http://www.botanicalillustration.blogspot.com/
If you go to that link, you can see the work a little bigger. I'm still a cyber klutz when it comes to embedding photos and stuff on this blog. :P But, I was so excited to see this there! Just think how excited I'll be when I enter my first show or sell something or get a commission. Something to look forward to. It is so nice to be dreaming again...and following those dreams.

Hope you are all well. I'll try to get around to all of your blogs soon.
Labels: gratitude, inspiration, thrive
Comments:
Paula: Thank you so much for your kind comment. I always did work in a very detailed way, so the detailed, realistic style of botanical illustration is a perfect fit for me.
JBR: And thank you for popping over HERE you sweet lady! :) *hugs*
Post a Comment
<< Home